This comprehensive Guide to Mobile PPC Opportunities covers how to reach your mobile customers through one effective digital marketing avenue: pay per click advertising, or PPC.
Herein, you'll learn everything from how to locate what part of your audience is mobile to tips on how to build mobile-friendly landing pages. Use this guide if you're new to mobile PPC or if you're searching for the most valuable ways you can optimize and advertise your mobile site for customers on the go.
Let's start with how to see your mobile audience.
How to Gauge Your Mobile Audience

You've heard the news that mobile searchers have officially trumped desktop searches. It's safe to assume that some of your customers are using on-the-go devices to reach your business. But do you know exactly how much of your audience is mobile? This is a good place to start your journey into mobile PPC.
You can get a clear picture of your mobile paid search audience using either Google AdWords or Bing Ads. We'll show you how to get this information using both platforms.
In Google AdWords:

1. On the "Campaign" tab, click "Settings" then "Devices."

2. Choose "Mobile" to see the numbers for this specific device.
3. You can filter the results per campaign or see the numbers for the entire account.
Finding the numbers through Bing Ads is slightly different mainly because you have to run a report.
In Bing Ads:

1. Go to "Reports" and run either an "Account," "Campaign," "Keyword" or "Ad" report type.
2. Select the columns you wish to add.
3. Add the Device type column to the report.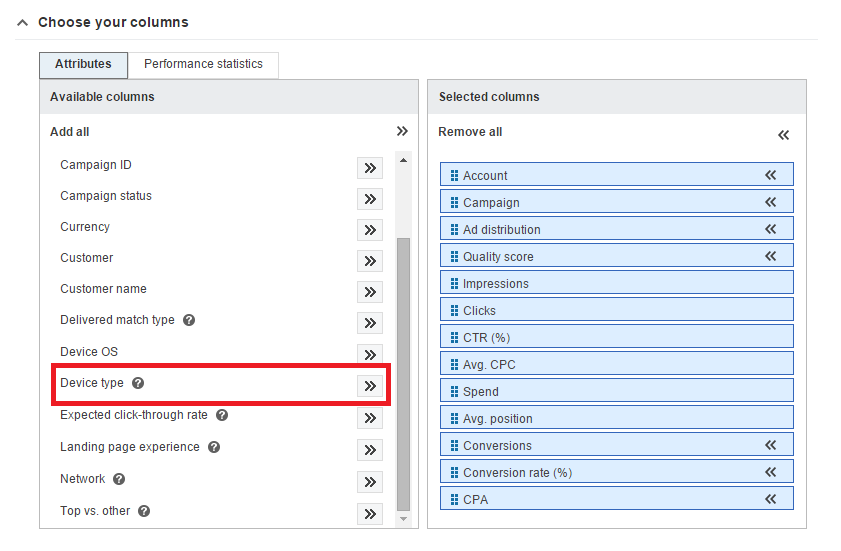 4. Select "Download" to get the report in Excel.
Using either platform, you can see segmented mobile campaign data. You might learn that more people are clicking your PPC ads and visiting your site via mobile devices than you thought. Knowing this information can help you determine a proper budget for mobile marketing efforts as well as help you to create an effective SEM strategy.
But knowing your mobile audience is just the first step in creating a powerful SEM strategy. The second step is to monito